---
Here are those weblog entries that I wrote while having a holiday in Kyoto and Tokyo, Japan in the year 2003. I'll add a link to a gallery as well sometime in the future, once I get them sorted out.
---
November 3, 2003 5:48 PM
Some day, somewhere above Siberia
Don't know what time it is, and I only know where I am by the virtue of a smallish white plane on a green map that is shown on the displays. I know I probably should be sleeping, but my internal clock is still probably somewhere on Hawaii on vacation. I hope I get a postcard.
It turned out that Monday was actually a holiday in Japan. This meant that all traffic was on Sunday schedule, and thus we cut it very close getting to the plane... I always do that. Note to self: Always reserve four hours to travel to Narita.
November 3, 2003 5:47 PM
Sunday evening, during a lull in packing frenzy
The Faithful.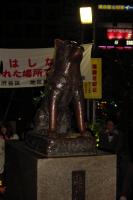 Whee, I got to watch a
go
professional match from the TV this morning! O Rissei Judan was taking on Yamashita Keigo in a 30 second/move television cup series. It's amazing how simple moves pros make, and how much they emphasize good shape in fast games.
Anyway, we finally went to an area unknown to me called Odaiba, which has apparently grown to be a big entertainment area in the past few years. You get there on a very sci-fi, driverless train traveling high above the Tokyo Bay, and then you see rows and rows of shopping malls, gaming malls (!) and amusement parks (with a complete WW2 bomber).
Our main target was the "Venus Fort", a shopping mall which has been designed to mimic 17th century Rome, and targeted at young women - including shops like Barbie clothes for adults (yes, really, for wearing). We ended up in a Jean-Paul Gaultier shop, where I saw a wallet which I simply had to get. Heli got a bag, and Erik got nearly a coat, but was saved by the fact that there were no proper sizes available.
The rest of the evening we spent in Hirajuku, which is filled with gorgeous stuff - stuff that would make any goth weep with joy. After the shops closed, we went to Shibuya for a quick bite. I - again - had to pay a visit to the statue of a dog that is right next to the Shibuya station. It is a popular meeting place, and the story is that this dog escorted his master every day to the train station as he left for work, and always came back in the evening to welcome his master back home. Then one day, the master died, but the dog would keep coming every evening to meet the train; every day it would come, until it died, to wait for his master who would never come back.
For some reason, seeing the statue and remembering this beautiful story always brings a tear to my eye. Bah, damned romantic me.
November 3, 2003 5:46 PM
Sunday, after the hardest day so far
Hydrogen was the cool thing in this picture. Honest.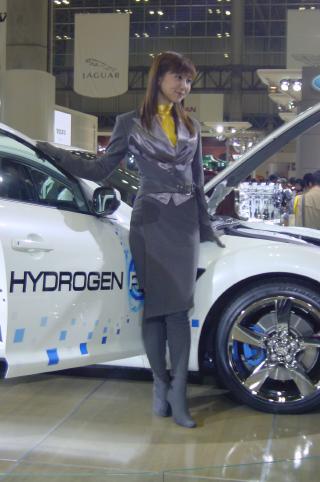 Heli arrived early on Saturday morning by bus from Sendai. After we managed to wake Erik up four hours later, we hopped on a bus and left for the two-hour trip to Tokyo International Motor Show near Chiba.
The show is full of concept cars, pretty girls, normal cars, pretty girls, strange cars, pretty girls, cool motorcycles, and pretty girls. There were also some pretty girls displaying the warez, so to speak. I managed to fill two memory cards and use up two batteries of my digital camera...
Not entirely unsurprisingly, the biggest stands and the biggest crowds were drawn by the Japanese manufacturers. Especially Toyota's concept cars with many blinkenlichts were nearly impossible to get near to, but old hats like Ferrari and Lamborghini were doing pretty well, too. My personal favourites were the Jaguar stand (the best looking cars) and the Subaru stand (the best looking... aw, forget it).
Cometh evening, and my feet were hurting so bad, I could sometimes feel flashes of pain starting from the sole and going up to my buttocks.
November 3, 2003 5:45 PM
Friday (or to be exact, Saturday)
OK, let me repeat myself here: Imagine a bar. You know, your average theme bar where for example you are handcuffed at the entrance and "guards" serve drinks in miniskirts. Squeeze it down to your kitchen. Stack six of these on top of each other, connect with a stair case.
Put ten in a row.
Put ten rows in ten columns.
Now, imagine 50 blocks of those, packed tightly.
Decorate with blinkenlichts, populate with 200,000 drunken people.
Roppongi.
It's Another Place.
Oh, by the way... I thought I was completely immune to shopping sprees, as it is really difficult for me to actually buy stuff. Not so.
In Harajuku (a place where the young people go hang out and do strange stuff) me and Erik walked by a Japanese toy shop. We just dropped in to see if there was anything interesting, and walked out with bags bulging with stuff; including things like extremely cute stuffed animals, "Gloomy" -bear strappu, puzzles and all sorts of other stuff we really don't want you to know about.
Then we hit the shopping streets, filled with so many cool clothes that even I felt my jaded heart to move. It was impossible to really move, since every shop looked interesting and we wanted to buy IT ALL! YES! STUFF! IT MUST BE MINE!
It was not a shopping spree. It was a shopping rampage. The combination of Akihabara and Harajuku is simply something nobody can resist. We stopped the rampage at Lamborghini Roppongi, which ... slightly exceeded our budget.
(I hear you ask: "What is Gloomy bear?" Well, Gloomy is a fluffy bear with big eyes who just simply likes to eat people and rip their guts off. But only in an adorable and cute sort of way, so it's okay. It also has rockets on its feet so it can fly.)
October 30, 2003 1:21 PM
Wednesday evening, all electrified
Evening: So, after a quick stroll around Ginza, we walked through Kanda to Akihabara, and particularly its Electric Town. Later on, we were met by a fellow JSPWiki user, Murray, who was kindly took us to a all-you-can-eat shabu-shabu place - a place we would not have found in a million years. It really makes you wonder how the Tokyo-dwellers actually find these restaurants anyway: the competition must be fierce, and being on the 8th floor of some obscure building with six other restaurants makes standing out... difficult.
By the way: If you don't know what Akihabara is, let me paint a picture for you: Imagine the biggest electronic shop that you know. Now, take away all extra space, and imagine all the stuff in a room that's about the size of an average living room.
Then, put six on these on top of each other, and connect with a stair case.
Put ten of these in a row.
Put ten of those rows in columns.
Now, imagine 50 blocks of those, packed tightly with nary a room for a small cafe or a soba bar between them.
Decorate with the amount of blinkenlichts equivalent of New York during Christmas.
Populate with 200,000 people, coming and going, shouting advertisements, selling and buying.
Akihabara.
It's The Place.
October 29, 2003 7:33 AM
Wednesday, about 1 am
The Japanese TV has not lost any of its allure. We just watched a program where four guys were stopping random pretty girls and giving them a pair of bikinis. In the evening, the girls arrived at the TV studio, and a game ensued, where the guys were trying to guess which bikinis the girls had chosen, while ogling at them unashamedly. Correct guesses were awarded with a view and a short talk with the girl (in the bikini, if course).
Most of the commercials are mind-boggling, too. Of course, drinking half a liter of sake does make the stuff more hilarious than it probably is, but... Japanese TV still beats any mind-expanding drugs.
...
Later: We are now sitting inside the architectural miracle called the Tokyo International Forum. Free ~WiFi, yay!
October 29, 2003 7:31 AM
Shinkansen train to Tokyo
We slept rather late this morning, and thus had time to visit only one area. We chose the Kinkaku-ji, aka the Golden Temple, and the nearby Zen Garden of ?. The Golden Temple is quite okay, and luckily we got in during a time when there weren't too many tourists. However, the Zen garden was a bit of a shocker: I recognized the place. It's really a very strange feeling to walk into a place you are certain you have never been to, and realize you have seen it before. And it wasn't just a phantom deja vu; in fact, I actually had seen the garden in a couple of movies. I think the last one was Stupeur et Tremblements the story of Amelie Nothcombe that I saw two months ago.
Nevertheless, the garden is a wonderful place. Even though there's a constant chatter and creak of the floorboards from the flow of tourists, there's something calming and soothing about the atmosphere. I could've spent hours upon hours there, just sitting. Not really even thinking, just letting the mind wander.
I wonder how difficult it would be to construct a rock garden of my own?
October 29, 2003 7:27 AM
Monday, sitting on the floor
After arrival, we grabbed something quick to eat (and even that quick turned out to be very good and left for an evening stroll to the Kodai-ji temple. It had been lit with amazing colors, and I managed to use almost all of my 128MB memory card, trying to grab fleeting photographs in the diminishing light. I got perhaps three good shots, and as an extra bonus, a nice picture of Mars next to an ancient temple.
Now, off to the city on bikes.
...
Around midnight: OK, I would claim that my feet are killing me, but apparently putting them in a nice kotatsu and sipping sake makes them forget such morbid thoughts. Now they are soaking in the warmth of the second most important Japanese invention to date.
Kyoto really is a good city for biking. Even though you couldn't travel too fast on them, and they steered like drunken camels, it's really easy to cover a lot of ground. Most of Kyoto's more interesting sights are on the edge of the city, which means that you can lose a lot of time traveling between them. And the city is mostly flat, except for the East side. Of course, we mostly went to there, since there's the Ginkaku-ji, the fabled Silver Temple. We first went to see the Shogun's Palace, built for Tokugawa Ieyasu in 1603.
I have to say that the Ginkaku-ji was a slight disappointment; the Shogun's house (with the nightingale floor!) and yesterday's light display with the garden were far more interesting.
We also accidentally met some other Finns talking loudly outside the Ginkaku-ji: "500 Yen!?! We're not paying that much money!" Someone in the family pointed out - quite correctly - that they had flown in 8000 km, and paid a handsome amount of moolah for the privilege as well, so it would be rather stupid to start skimping now. They finally entered, right after us, and their kid (the one that was not wearing running clothes, the standard Finnish attire for everything) started promptly poking and peeking where one is not really supposed to be poking and peeking.
We spoke mostly English with Erik after that, and tried to avoid our countrymen.
I also learned that my hand-eye-ear co-ordination requires an upgrade, as Erik repeatedly beat me in a "taiko"-game, where the aim is to bang on realistic-looking drums with sticks to the tunes of popular music. It was extraordinarily fun, though... The evening was finished in Ganko, an expensive looking restaurant that we had been tipped on. The bill of the evening was about 90 euros for two persons, but frankly, I have seldom eaten so well. I was already on the brink of becoming full, as the kimono-clad waitresses started carrying in more food. I now know how to eat tohu, bean milk that is sort of cooked at the table, and then eaten with vinegar. Um. The result is something resembling a cross between slightly boiled egg and tofu, and eating it requires some serious chopsticking skills.
October 29, 2003 7:20 AM
Sunday, after a very, very long flight on which I was convinced on the genius of those nice folks at Pixar.
The living room.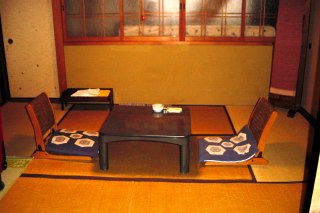 You know, when you get too relaxed you start to make mistakes. I took a bit of a laid back attitude to the whole Japan travel thingy, and it really paid back today...
First of all, we actually are on board a Shinkansen Nozomi train traveling towards Kyoto at 250km/h. However, not a single one of my dozen dictionaries or travel guides is with me; they are sitting nicely on the bookshelf at my living room where I left them. It is not a good idea to travel here without a basic dictionary or at least a kanji-to-any-human-readable-language translator.
It also took us three tries to get aboard the right plane in Helsinki. First, we tried to leave for some unknown destination, but luckily the flight personnel managed to grab and herd us back from the tube. After that, we stood for a long time in the queue to Amsterdam, until we realized that we were supposed to go to gate 26a, not 26.
After we arrived to Tokyo, I also realized I had forgotten at least one somewhat important paper with a relatively important address back home. However, I have utmost trust to the Japanese mentality of getting packages to their correct owners, no matter what. So I improvised on the address.
Oh well. At least "Finding Nemo" is a fully fledged airline movie: doesn't require too much intelligence, is fun to watch, and has some unforgettable characters. Dude.
Feels good to be back here.
Same Sunday, later on: We're now arrived at Hirota Guest House, which (as you can see) is a pretty nifty place for a measly sum of 7000 yen/night. Our walk here was interrupted by a neverending succession of people, holding some sort of a festival, dancing and blocking the traffic on a major street. Which was fun. We still have many hours of Sunday to go; we gotta go exploring!
(I think my internal clock just left me its resignation notice, citing consistent abuse.)
October 25, 2003 1:08 PM
The Hat Is On The Move
---