---
Sunday, after a very, very long flight on which I was convinced on the genius of those nice folks at Pixar.
The living room.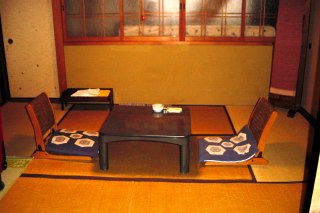 You know, when you get too relaxed you start to make mistakes. I took a bit of a laid back attitude to the whole Japan travel thingy, and it really paid back today...
First of all, we actually are on board a Shinkansen Nozomi train traveling towards Kyoto at 250km/h. However, not a single one of my dozen dictionaries or travel guides is with me; they are sitting nicely on the bookshelf at my living room where I left them. It is not a good idea to travel here without a basic dictionary or at least a kanji-to-any-human-readable-language translator.
It also took us three tries to get aboard the right plane in Helsinki. First, we tried to leave for some unknown destination, but luckily the flight personnel managed to grab and herd us back from the tube. After that, we stood for a long time in the queue to Amsterdam, until we realized that we were supposed to go to gate 26a, not 26.
After we arrived to Tokyo, I also realized I had forgotten at least one somewhat important paper with a relatively important address back home. However, I have utmost trust to the Japanese mentality of getting packages to their correct owners, no matter what. So I improvised on the address.
Oh well. At least "Finding Nemo" is a fully fledged airline movie: doesn't require too much intelligence, is fun to watch, and has some unforgettable characters. Dude.
Feels good to be back here.
Same Sunday, later on: We're now arrived at Hirota Guest House, which (as you can see) is a pretty nifty place for a measly sum of 7000 yen/night. Our walk here was interrupted by a neverending succession of people, holding some sort of a festival, dancing and blocking the traffic on a major street. Which was fun. We still have many hours of Sunday to go; we gotta go exploring!
(I think my internal clock just left me its resignation notice, citing consistent abuse.)
---