---
Sunday evening, during a lull in packing frenzy
The Faithful.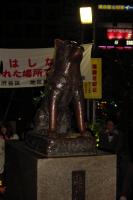 Whee, I got to watch a
go
professional match from the TV this morning! O Rissei Judan was taking on Yamashita Keigo in a 30 second/move television cup series. It's amazing how simple moves pros make, and how much they emphasize good shape in fast games.
Anyway, we finally went to an area unknown to me called Odaiba, which has apparently grown to be a big entertainment area in the past few years. You get there on a very sci-fi, driverless train traveling high above the Tokyo Bay, and then you see rows and rows of shopping malls, gaming malls (!) and amusement parks (with a complete WW2 bomber).
Our main target was the "Venus Fort", a shopping mall which has been designed to mimic 17th century Rome, and targeted at young women - including shops like Barbie clothes for adults (yes, really, for wearing). We ended up in a Jean-Paul Gaultier shop, where I saw a wallet which I simply had to get. Heli got a bag, and Erik got nearly a coat, but was saved by the fact that there were no proper sizes available.
The rest of the evening we spent in Hirajuku, which is filled with gorgeous stuff - stuff that would make any goth weep with joy. After the shops closed, we went to Shibuya for a quick bite. I - again - had to pay a visit to the statue of a dog that is right next to the Shibuya station. It is a popular meeting place, and the story is that this dog escorted his master every day to the train station as he left for work, and always came back in the evening to welcome his master back home. Then one day, the master died, but the dog would keep coming every evening to meet the train; every day it would come, until it died, to wait for his master who would never come back.
For some reason, seeing the statue and remembering this beautiful story always brings a tear to my eye. Bah, damned romantic me.
---