---
Sunday, after the hardest day so far
Hydrogen was the cool thing in this picture. Honest.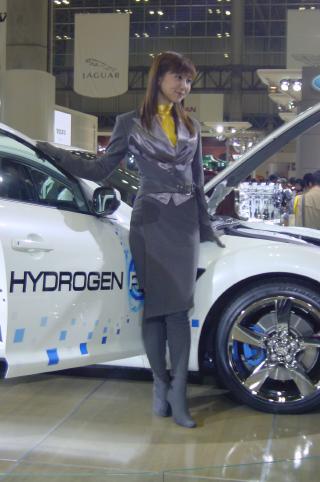 Heli arrived early on Saturday morning by bus from Sendai. After we managed to wake Erik up four hours later, we hopped on a bus and left for the two-hour trip to Tokyo International Motor Show near Chiba.
The show is full of concept cars, pretty girls, normal cars, pretty girls, strange cars, pretty girls, cool motorcycles, and pretty girls. There were also some pretty girls displaying the warez, so to speak. I managed to fill two memory cards and use up two batteries of my digital camera...
Not entirely unsurprisingly, the biggest stands and the biggest crowds were drawn by the Japanese manufacturers. Especially Toyota's concept cars with many blinkenlichts were nearly impossible to get near to, but old hats like Ferrari and Lamborghini were doing pretty well, too. My personal favourites were the Jaguar stand (the best looking cars) and the Subaru stand (the best looking... aw, forget it).
Cometh evening, and my feet were hurting so bad, I could sometimes feel flashes of pain starting from the sole and going up to my buttocks.
---