---
Returnskaya
The Grand Cascade of the summer mansion in Petrodvorets.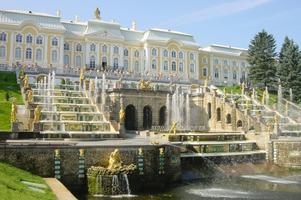 I'm back home, sweating in my apartment. The weekend tournament went quite well, technically. I scored four wins, being the best Finn and won a t-shirt. Unfortunately I got two of my four wins because my opponent did not show up, and thus forfeited the game. Darn. I would've liked to play those games. Now I didn't get to play any serious games on Sunday :-(.
Anyhoo, on Monday we went to the summer mansion of Peter the Great in Petrodvorets and then jumped on hydrofoil ships that transport passengers to St Petersburg. The trip takes 30 minutes, and was the most comfortable method of travel on the whole trip. Of course, it was also 20 times more expensive than the bus... But the arrival up the Neva river into the heart of St Petersburg is worth it.
On the whole, the trip was a very positive experience, regardless of the problems we had in registration, migration card thingy, etc... The only thing that really strained my patience was the return trip: When we arrived on the train, and went into the restaurant car to enjoy some beer and a game of go, the train personnel really boiled my blood. The talk went something like this (in Finnish, of course):
"You have to leave." Note the lack of apology.
"What!?"
"We need those tables for people who want to dine."
"Err, but aren't we paying customers too?"
"You should really thought about it before you came in that there will be people dining here, and you are taking up far too much space with your games." Then she added, as if it made things better: "But you can stay here until the diners arrive."
I finished my beer quickly and went back to my compartment, seething. I mean, of course they need the tables for diners, but she still did not have to act as if we were at fault there. A polite apology and an explanation and a request to move elsewhere would've been cool, and we would've moved, but if you start by telling that the customers are idiots who can't think for themselves (even if they are), then that is not the key to customer service.
Fuck them. That must've been the most Soviet thing I saw on the trip, and after Russia, that's saying a lot.
---