---
Battlestar Japan
You just gotta love a country where they show live, professional go games on TV... With commentary! :-)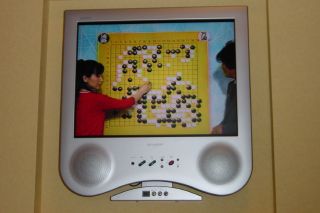 Well, another three hour ordeal, and this wasn't actually such a bad experience (as the aforementioned Troy).
I'm talking about the pilot of the new edition of Battlestar Galactica, which I had the opportunity of catching on the flight. I remember watching the original series when I was really young - we had to get a new TV to watch it. Our old Philips did not have an UHF receiver, and BG was on TV2 - so we got a new Goldstar black-and-white set. Oh, the memories.
But this new version is actually not half bad. OK, so Starbuck and Boomer are women (and there's some electricity between Starback and Apollo already), though I liked the character of Cassiopeia from the original series more. But it's perhaps the sign of the times. No real complaints. The effects were wonderful, and having actually silent space travel and semi-newtonian physics felt good for a change. The space combats were staged well, though I still long for the old-style Cylon fighters. They were the scariest things still seen on TV, these new ones just look like something stolen out of a computer game. I especially loved the "debris rain", and the fact that most of the characters were really rather intelligent. No glaring plot holes or gaping amounts of stupidity yet...
But yeah, I could see myself growing to like this. It's miles better than Galactica 1980, anyway... (Sheesh, flying motorcycles?)
(Yah, I'm in Tokyo now, and managed to catch a flu as well. Bugger.)
---