---
Small tip to moviegoers
Right!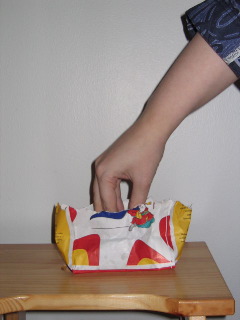 Wrong
Went to see
Incredibles
, which turned out to be a lot more fun than I was anticipating. Well worth watching - and again, Pixar's small animation before the actual feature was pretty cool.
However, I do have a small idea to people: when you buy candy, you can actually remove the top half of the bag (because if you've bought a full bag of candy and can finish it during one movie, you have a lot more problems than annoyed people listening you rattle) and make the noise you do during the movie a lot more pleasurable to people around you. You see (in case you haven't noticed), forcing a large hand into a small paper bag makes a lot of noise. But if you remove most of that rattling paper, you get two benefits:
a) it's easier to find the candy you're looking for, and
b) it makes a lot less noise.
(Yeah, and I know some people are now thinking: "stay home you loser, if you can't take a bit of noise, don't go to the movies, where there actually might be other people." But I'm not talking about some noise: I'm talking about the big-honking-kind-of-noise, which comes from a person that obsessively-compulsively opens his bag, takes one candy out with a hand that is obviously larger than the bag, and then carefully folds the paper bag shut again, that makes you wonder if the other person is deaf or purposefully mean.
And, if you're worried that how to get the candy back home if you can't finish it, then the answer is simple: don't remove so much you can't close the bag anymore. Even a few centimeters off the top makes it a lot easier to eat.)
---